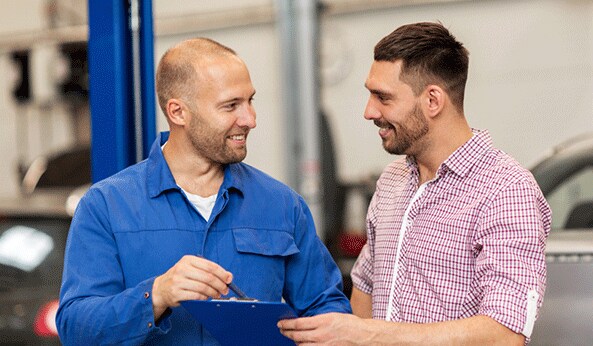 One thing you should always remember about your car is that it's an investment from the day of purchase until the day you finally trade it in. That's a fact not completely lost on our service department at AutoFair Hyundai in Manchester, New Hampshire. Our seasoned, Hyundai certified technicians and mechanics will always do their best to ensure you get the most out of your investment. We'll typically perform the maintenance on your vehicle that not only keeps it on the road, but improves it's performance as much as possible. Keeping you safe and saving you money is what we want to help you do. Our Hyundai certified technicians will do their best to make sure you get the most out of your vehicle even if you don't own a Hyundai!
When you come to our service department at AutoFair Hyundai in Manchester, NH for an oil change, we'll always check your belts and hoses, too. We'll let you know if you need a tune up and schedule for one at your convenience. If you need a tire rotation, we won't just rotate the tires to different positions we'll check to make sure the treads aren't worn excessively and the tire pressure of all your tires is correct. That's because our service department is thorough and we know that excessively worn tire treads can significantly reduce the traction your tires need to help your brakes bring your vehicle to a full stop. This means you might tend to brake harder more often. That's why our service technicians will check the general condition of your brakes and suspension during every tire rotation or alignment. We're also aware that improperly inflated tires can reduce your fuel efficiency as well, so we'll always check the pressure of your tires. We'll call to your attention any additional maintenance that may need to be taken care of and we won't perform any additional maintenance without your authorization while always trying to provide you with our guaranteed lowest price.
Whether it's something as simple as a battery check, an oil change or something a little more complicated like an alignment or brake inspection, our experienced and knowledgeable staff in our service department at AutoFair Hyundai in Manchester, NH are fast, friendly and thorough. If you have questions for us we have answers for you. We'll document all the work we do on your vehicle as well, so you can get the best possible resale value for your vehicle. No matter what type of vehicle you own, we want to be your one stop shop for all your car care needs. We want you to keep coming back because if you do we know we're doing things right. Your safety and satisfaction are our primary goals. That's why your service is our service at AutoFair Hyundai in Manchester, NH.
Scheduling Your Service Appointment