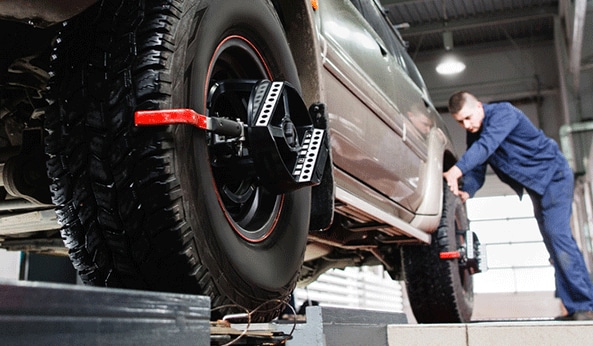 Unevenly worn front tires is a sign your vehicle is out of alignment. Another more obvious sign is if your car pulls a little to the left or right while driving. Your alignment is something you want to schedule at your earliest convenience with us at AutoFair Hyundai in Manchester, New Hampshire. A faulty alignment can not only cause worn tires that can affect your mileage costing you money, but can also cause more serious problems with your brakes or suspension. It will ultimately lead to much more expensive vehicle repairs. Schedule your vehicle alignment with us. Our Hyundai certified technicians are fast, friendly and thorough and will effortlessly help you avoid that mess.
Here at AutoFair Hyundai in Manchester, NH, we believe in doing things right the first time. Your satisfaction is our main goal. We'll make sure your alignment is done properly and your brakes and suspension are in good condition. We want to ensure your safety and the safety of others on the road, too. We'll help you avoid anything that may lead to unsafe driving conditions and mechanical failures which could cost you a lot more money. 
Our certified Hyundai technicians and mechanics at AutoFair Hyundai in Manchester, NH use only recommended and approved Hyundai parts, fluids and lubricants to promote the longest life and best performance from your Hyundai. If you don't own a Hyundai, that's OK we'll still show you the same great care for whatever vehicle you own. Performing your alignment correctly will definitely improve your mileage, keep your tires from wearing unevenly and avoid bigger headaches later on obviously. We'll get you in and out as quickly as possible and if you have questions our expert staff have answers. We'll never waste your time on unnecessary repairs. We'll always let you know the cost of any work before we do it and try our best to get the guaranteed lowest price whenever possible. 
At AutoFair Hyundai in Manchester, NH, our main goals are your safety and satisfaction. We'll document all the work we do on your vehicle for your records so you can be sure to get the best resale value from your vehicle when the time comes. We want you to keep coming back for all your car care needs because if you do it means we're doing things right for you. After all, our service is your service at AutoFair Hyundai in Manchester, NH.
Scheduling Your Service Appointment