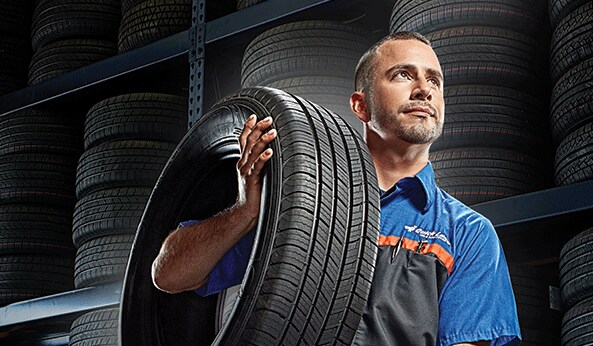 You tires are important to us at AutoFair Hyundai in Manchester, New Hampshire. We understand you might have more important things to worry about than your tires, that's why you can trust your tire rotations and any other tire maintenance to us. We'll do the worrying for you. While we perform regularly scheduled tire rotations, we'll check your tire tread, pressure and the general condition of your brakes and suspension, too. It's always a good practice not to ignore any warning lights or audible notifications even if your vehicle is equipped with a tire pressure monitoring system. 
Low tire pressure can lead to uneven or premature wear of your tires which can affect your mileage and life of the tires. We'll let you know if your tires need to be repaired or replaced. We won't perform any extra maintenance without your authorization and we'll always give you a fair estimate. In our service department at AutoFair Hyundai in Manchester, NH our Hyundai certified technicians are trained to find the right tires for your Hyundai vehicle at our guaranteed lowest price. Even if you don't own a Hyundai, you can count on our professionally trained staff at AutoFair Hyundai in Manchester, NH to provide the same great tire care our Hyundai owners enjoy. 
Your time is just as important to you as your tires so we'll be friendly and fast and get you on your way as quickly as possible. We also realize that worn tires can lead to unsafe driving conditions for you and others on the road. Did you know that reduced traction due to worn treads can make you brake harder more often? This can eventually affect the overall performance and subsequent condition of your brakes. An early sign of this is excessive brake dust on your wheel rims. We'll always take care to keep our eyes open for this and other signs that the condition of your tires may be affecting the overall performance of your vehicle. Uneven wear on the front tires usually is a sign that your vehicle is pulling to one side or the other during operation and is need of an alignment. We'll make sure to schedule you for an alignment when the time comes. 
We want you to enjoy the safest and best performance from your vehicle while extending the life of your car and saving you money. That's why at AutoFair Hyundai in Manchester, NH our service department is dedicated to helping you avoid more complicated, expensive repairs in the future by being thorough. We'll document all work done on your vehicle for your records to make sure you get the best resale value for your vehicle when you trade it in. We want to keep you coming back even if you're not a Hyundai owner. It shouldn't be hard to realize when it comes to your vehicle we have your best interests in mind. That's why your service is our service at AutoFair Hyundai in Manchester, NH. 
Scheduling Your Service Appointment