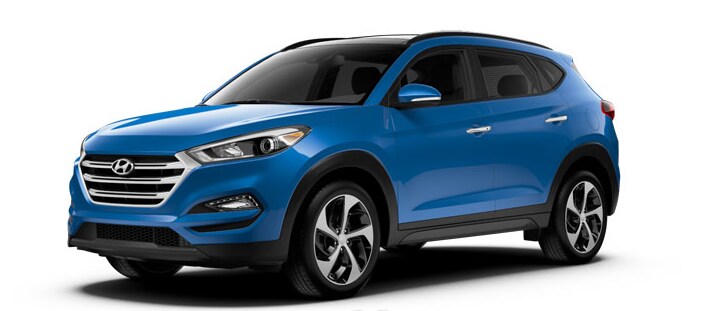 The SUV has become so popular that the field has become pretty flooded. You may have a hard time finding just the right SUV to fit your budget, give you all the features you want, and suit your personal style.
Until now.
The
2017 Hyundai Tucson
is a stylish SUV that appeals to the family set as well as young professionals. It is packed with features, but it doesn't command the price tag of a luxury vehicle. It's a solid offering with reliable performance and overall excellence in design.
It's no wonder that the our appointments to test drive the all-new Tucson are filling up fast at AutoFair Hyundai of Manchester, NH. People come from all over to learn more about this exciting new sport utility vehicle.
Read more to find out what it is about the 2017 Tucson that has everyone so excited.
View 2017 Hyundai Tucson Inventory
New Generation, New Design
The all-new Hyundai Tucson has been completely redesigned during the previous model year.
The new model has adopted Hyundai's "Fluidic Sculpture 2.0" design language, and the resulting design looks just like that sounds. The Tucson has subtle grooves and accents that provide interesting visual appeal without being too jarring or distracting. From the hexagonal grille closely flanked by the narrow headlights through the body with its accent trim along the bottom and ending in the neat rear with a modest spoiler and tidy tail lights, the entire exterior pulls together in one neatly designed package.
The 2017 Hyundai Tucson is a bit bigger than its predecessor, coming in at just over an inch wider and about three inches longer. You won't notice it as bulk on the outside, but you will feel a slight bit more room on the interior.
The redesign also includes the use of high-strength steel and other high-performance materials that improve not only the Tucson's safety, but also its handling. The 2017 Tucson will take bumps a lot better and take turns with more control, which makes exploring the New England countryside on weekend road trips a whole lot more fun.
View 2017 Hyundai Tucson Inventory
Enhanced Safety Features
High-tensile materials aren't the only additions that make the 2016 Hyundai Tucson safer to drive. The stylish SUV is loaded with safety features that have helped make it a Top Safety Pick for the Insurance Institute of Highway Safety and earned it top safety marks from the National Highway Traffic Safety Administration.
The base model comes with standard features like antilock brakes, airbags, a rearview camera, hill assist, hill descent control, and stability and traction control.
Upgrade to the Sport, and you'll enjoy additional features like blind spot monitoring and rear cross-traffic alert. At the highest trim level, the Limited, you'll get features like rear parking sensors, lane-departure warning, and a forward collision detection system that includes monitoring for pedestrians.
With the Limited trim, you also get the Blue Link telematics suite, which includes emergency assistance.
You'll feel just as safe wandering the New Hampshire countryside as you do braving rush hour traffic in Manchester with the 2017 Hyundai Tucson on your side.
View 2017 Hyundai Tucson Inventory
Get to Know the Limited Trim
Though the 2017 Hyundai Tucson offers many great features, you can improve your enjoyment of this stylish SUV by choosing the luxury Limited trim level.
In addition to the safety features mentioned above, the Limited trim offers an improved interior and great convenience features such as dual-zone climate control, an auto-dimming rearview mirror, an upgraded infotainment system with a larger screen and the Blue Link smart phone interface, and an eight-speaker audio system.
The Limited model includes leather upholstery and a power passenger seat (only available at this trim level). You can upgrade the interior with the Ultimate Package, which adds ventilated front seats, heated rear seats, and a panoramic sunroof.
Driving the Hyundai Tucson Limited will feel just like driving a luxury vehicle, but you won't have the huge loan payment every month.
In fact, when you shop at AutoFair Hyundai of Manchester, you'll be looking at even lower payments thanks to our many affordable financing options.
View 2017 Hyundai Tucson Inventory
Test Drive a Brand New Tucson Today at AutoFair Hyundai

There's nothing like first-hand experience to tell you whether a vehicle is right for you. We're confident that once you test drive the 2017 Hyundai Tucson, you'll fall in love.
When you schedule a test drive with AutoFair Hyundai, our associates get to work on putting together a trade in offer and some financing options so that you have all the information you need to make a buying decision. We offer affordable financing options all year round, but occasional specials can include military discounts and 0 percent financing to those who qualify.
Call us today at (603) 471-3995 to learn more about your options and to experience the best service of any New Hampshire Hyundai dealership. Then browse our inventory online or talk through your options with one of our friendly associations during your test drive.
View 2017 Hyundai Tucson Inventory