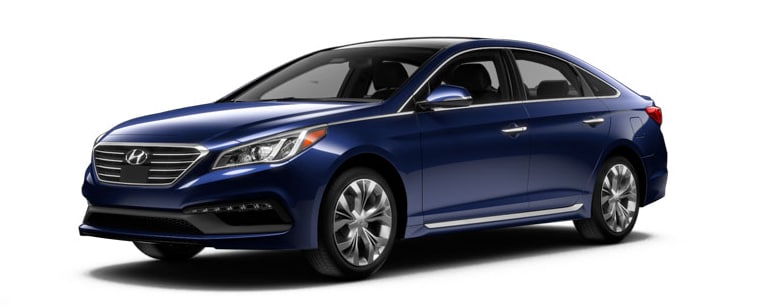 In the crowded sedan market, it can be hard for automakers to rise above the rest. As a shopper, you might find it hard to choose between the dizzying array of options in what seems to be a sea of sameness.
The
2017 Hyundai Sonata
makes the choice a little easier for you, standing out with its gorgeous design, advanced technology, reliable performance, and affordable price tag. You need look no further than the Sonata for a stylish, family friendly vehicle that will take it easy on your pocket book.
At AutoFair Hyundai of Manchester, we regular have to restock the all-new Sonata to keep up with demand. Once you take a test drive of the new Sonata, you'll see why.
Read more to learn about all the exciting things the 2017 Hyundai Sonata has to offer.
View 2017 Hyundai Sonata Inventory
You don't have to be the loudest person in the room to be the center of attention, and the 2017 Hyundai Sonata doesn't have to be the most glamorous to turn heads. This striking sedan has a sleek and sophisticated profile that will have people talking.
The four-door Sonata has a graceful silhouette that is accentuated with body detailing all around. Subtle grooves emphasize the sense of flowing movement down the side of the car, and the front and rear ends have a tailored look that brings the whole package together. Think of this sedan like an A-list celebrity on the red carpet, polished from head to toe.
Slanted head lights surround and large grille, but the front end is not overdone the way many sedans are in their attempt to stand out. The grille is large but not too large. The head lights are slanted, but they aren't pulled back to the passenger doors. The entire design is created to be just enough -- the details are distinctive but not overdone. And that's a trend you will find carries through on the interior, as well.
If you are looking for a sophisticated and classy sedan that is versatile enough for any occasion, you need look no further than the 2017 Hyundai Sonata.
View 2017 Hyundai Sonata Inventory
On-the-Go Technology
The 2017 Hyundai Sonata offers a number of great tech features that will improve the comfort of your ride and make driving more fun.
Most notably, the 2017 Sonata gets a new infotainment system that includes a larger touch screen and more advanced audio features. (An eight-inch screen is also available.) The system replaces last year's five-inch screen, and it has Apple CarPlay and Android Auto, which allow you to integrate your smart phone with the car's audio system. Not only will you be able to stream your personal music collection, but you'll also be able to make hands-free calls and text messages, and use many of the other apps on your phone.
An optional navigation system is available that provides directions from Google, and an emergency system automatically contacts the authorities in case of an accident.
Other great technology features include a push-start ignition, satellite radio, a rearview camera, sport-tuned steering, a color display over the steering wheel, and automatic headlights.
Visit AutoFair Hyundai to have a seat in the 2017 Sonata and try out all the gadgets and features yourself.
View 2017 Hyundai Sonata Inventory
Available Turbocharged Engine
Though its exterior may look modest, the 2017 Hyundai Sonata is very powerful for a sedan.
The base model Sonata comes with a 2.4-liter Inline 4 engine that has 185 horsepower, which is more than enough for most drivers. Yet if you want a little more power, you can opt for the turbocharged engine. The 2.0-liter turbocharged Inline 4 engine has 245 horsepower and 260 pounds per feet of torque. You'll feel a lot more confident when you're on icy roads during the New Hampshire weather with this engine.
Though you'll lose a couple of miles of fuel efficiency with the more powerful engine, you'll still get a respectable 23 mpg in the city and 32 mpg on the highway, which will help you keep your fuel budget down.
Get a feel for what 245 horsepower offers when you take a test drive at AutoFair Hyundai in Manchester.
View 2017 Hyundai Sonata Inventory
Test Drive the All-New 2017 Elantra at AutoFair Hyundai

Find a fantastic selection of the 2017 Hyundai Sonata at AutoFair Hyundai in Manchester, including the different trim levels and colors. Work with one of our associates to explore all the options and put together the perfect package for your budget.
Thanks to our affordable financing options, you'll be able to put more options into your budget. We frequently offer financing specials and discounts, such as for military veterans and those with great credit. But we also offer affordable financing options for those that have spotty credit.
Visit us today to learn more about your options and enjoy the best service of any Hyundai dealership in New Hampshire. At AutoFair Hyundai, we treat you like family.
View 2017 Hyundai Sonata Inventory