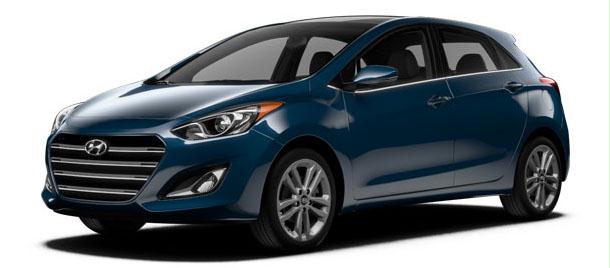 A lot of hatchbacks look like something your grandma would drive to go to the swap meet -- not something that you'd want to be caught dead in as the fashion-forward yet budget-conscious shopper that you are. The
2017 Hyundai Elantra GT
breaks that mold. It's a hatchback, but it's got the swagger of a muscle car. It may be little, but it is fierce!
You'll feel proud to ride around town in your subcompact Elantra GT, and you'll have people turning heads wherever you go.
At AutoFair Hyundai of Manchester, you can find the perfect Elantra GT with the right features inside and out to not only make an impression, but to make sure you are having the time of your life when you ride your GT -- whether you're just heading across town for a grocery run or you're conquering the New England back roads.
Read on to learn more about what the 2017 Hyundai Elantra GT has to offer.
View 2017 Hyundai Elantra GT Inventory
Take one look at the 2017 Hyundai Elantra GT and right away you'll see that it stands apart.
The oversized geometrical grille creates a strong front end that is flanked by head lights that reach toward the side doors. The hood bulges at the sides, and the wheel wells arch distinctively over the tires. The whole front end looks like a body builder bending forward to flex, and it creates a stronger appearance that defies that typical hatchback aesthetic.
The roof swoops toward the back to create a slightly aerodynamic look that ends abruptly at the squat rear. Rather than looking frumpy, it looks strong from front to back. Body sculpting and geometric windows create a unique look that is distinctive and bold.
The 2017 Hyundai Elantra GT won't be the prettiest belle at the ball, but it just may well be the one with the most personal style. Think of it as the kid who shows up in the tux he blinged out with special trim and linings, rather than the one who purchased off-the-rack at the local mall store.
View 2017 Hyundai Elantra GT Inventory
Affordable Performance
Hyundai and the hatchback both have a reputation for affordable pricing, so the two together are a penny pincher's dream. But lower pricing doesn't mean cheap -- this car is all value.
Besides the pretty exterior, the 2017 Hyundai Elantra GT offers reliable performance that will let you have fun behind the wheel while also feeling safe with your family. The GT comes with a 2.0-liter four-cylinder engine that puts out 173 horsepower and 154 pounds per feet of torque. That's a big improvement over the basic Elantra, which gets only 145 horse power.
With the stronger engine and the standard manual transmission, you'll feel in command when you are exploring New Hampshire's country roads. You can power shift and take corners like a boss, enjoying the sure yet agile performance that the GT offers. You may not get a chance to tear up any race tracks in the GT, but you can get a taste of that glory when you are cruising back roads with more power than your fellow suburbanites off for a weekend jaunt.
Take a test drive at AutoFair Hyundai in Manchester and see for yourself what the new GT can do.
View 2017 Hyundai Elantra GT Inventory
Class-First Heated and Cooled Seats
Heated and ventilated front seats can feel like a luxury in the budget-friendly compact and subcompact market, but they come standard with the 2017 Hyundai Elantra GT.
During the New England winter, those heated front seats will feel like a necessity. You'll feel like you're slipping into a warm embrace when you sit in the driver's seat, helping you get the right start to even the toughest mornings.
During the balmy New Hampshire summers, those ventilated front seats will feel like a breath of fresh air.
You'll find a wealth of other great features like these in the all-new Elantra GT, such as fold-down rear seats, Bluetooth connectivity, push-button start, dual-zone climate control, and optional rear heated seats.
Learn about these and other great features when you take your test drive at AutoFair Hyundai in Manchester, NH.
View 2017 Hyundai Elantra GT Inventory
Get the Best Deal on a New Elantra GT at AutoFair Hyundai of Manchester

Safe, stylish, and a stellar performer, the 2017 Hyundai Elantra GT has everything you would want and more in a subcompact. With superior service and sensational savings, AutoFair Hyundai has everything you would want and more in a Hyundai dealership.
Schedule a test drive of the new Elantra GT, and we'll have financing offers and a trade-in value ready for you to help you make a decision in less time. Or call to learn more about our current specials, such as discounts for veterans and 0 percent financing for those who qualify.
You could be driving off our lot with your new Elantra GT this week. All you have to do to start is click below to view our inventory or visit us in Manchester at 1477 S. Willow Street.
What are you waiting for?
View 2017 Hyundai Elantra GT Inventory