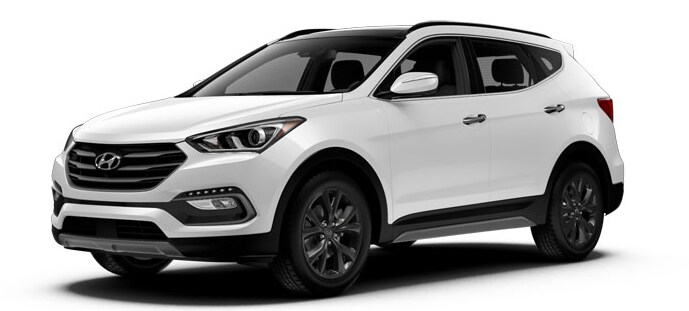 The problem with some budget-friendly SUVs is that they can look a bit too kiddish. The rounded curves and oversized features make the supposedly sporty vehicle look like a plastic toy car.
Not so with the
2017 Hyundai Santa Fe Sport
. Here's a powerful SUV that lives up to its name. It has a grownup, sophisticated design and advanced engine technology, creating an irresistible package with a great price.
While it may be a little while before we start seeing the 2017 Santa Fe Sport at NH Hyundai dealerships, it's never too early to start learning about all the exciting new features we can expect. AutoFair Hyundai will be among the first to have the Santa Fe Sport when it is released, and we'll have exciting financing offers ready.
Continue reading to find out more about what the 2017 Hyundai Santa Fe Sport will have to offer.
View 2017 Hyundai Santa Fe Sport Inventory
You don't have to pay luxury prices to get luxury style and features. The 2017 Hyundai Santa Fe will make you feel like you're driving a luxury vehicle, even though it is a budget-friendly model.
High-quality materials are used throughout the cabin, and the layout is smart and tailored. The center console has been redesigned, and it includes an infotainment system that comes standard with the Hyundai Blue Link, which is a telecommunications suite that includes hands-free calling, a navigation system, remote start, remote unlocking, and more.
The base level comes with a 5-inch touch screen, but higher levels include 7- or 8-inch screens. Android Auto is included, which allows you to integrate your smart phone to use apps and stream your personal music collection. The system connects to a premium Infinity audio system.
Other great features include a beautiful new center stack, leather upholstery on some trims, second-row cup holders, and a host of advanced safety features like pedestrian detection with automatic braking and lane-departure warning.
View 2017 Hyundai Santa Fe Sport Inventory
An SUV That Overperforms


We all have stories about getting stuck in the mud in our sedans or slipping around on the road during the New England winter. Many look at buying an SUV to avoid getting into such dangerous situations again. Driving an SUV is no guarantee that you'll never lose your footing on the road again, but it will certainly improve the power and control you have.
The 2017 Hyundai Santa Fe Sport over delivers in the performance department. The base model offers a 2.4-liter four-cylinder engine with 185 horsepower, and there is an available 2.0-liter turbocharged four-cylinder engine is available that puts out 240 horsepower. You'll find that you have plenty of oomph on the road, whether you are ambling over rocky terrain during the summer or managing icy roads during the winter.
The six-speed automatic transmission will make driving a breeze, and you'll be able to quickly accelerate and pass to avoid obstacles.
Of course, everyone's mileage will vary when it comes to their assessment of driving performance, so it's important that you take a test drive to see how the new Santa Fe Sport performs for yourself. Schedule your test drive with AutoFair Hyundai in Manchester as soon as the 2017 model is released.
View 2017 Hyundai Santa Fe Sport Inventory
As part of its 2017 makeover, the new Hyundai Santa Fe Sport got a lot of technology upgrades that make it feel more luxurious and a whole lot more fun to drive.
To start, there is an upgraded infotainment center that includes a 5-inch display, with the option for a 7- or 8-inch display. Android Auto is available to integrate your Android smart phone, allowing you to display your calling, texting and apps on the screen. You can do everything from check email to stream your personal music library with the integration.
An Infinity audio system, Quantum Logic surround sound, and Clari-Fi music restoration create superior sound for when you are listening to music, podcasts or audio books.
A rearview camera is standard, but a multiview system is available that offers dynamic sight lines. An electronic parking brake, lane-departure warning, pedestrian detection with emergency braking, smart cruise control, and automatic high beams are just a few of the other advanced technological features.
With these and other cutting-edge technology features, you'll love driving the 2017 Hyundai Santa Fe Sport.
View 2017 Hyundai Santa Fe Sport Inventory
Find Your 2017 Santa Fe Sport at AutoFair Hyundai in NH

It may be some time before the 2017 Hyundai Santa Fe Sport will be released, but it's not too early to start learning about all the exciting things that await you with this new SUV.
The friendly and knowledgeable associates at AutoFair Hyundai in Manchester are ready to answer any questions you have and to show you some of the features that are already present in other models.
Visit us today to learn more about the financing options we offer and to sign up to be notified when the 2017 Santa Fe Sport becomes available. You can also explore our inventory online by clicking the button below.
View 2017 Hyundai Santa Fe Sport Inventory