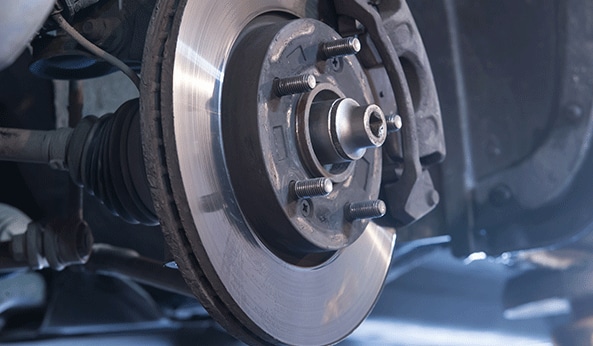 Your brakes are some of the hardest working parts in your vehicle. They can wear very quickly if not properly taken care of. Faulty brakes can eventually lead to mechanical failure that can result in very dangerous driving conditions. So why trust your piece of mind and your Hyundai's brakes to anyone else but AutoFair Hyundai in Manchester, New Hampshire? Our Hyundai certified brake technicians will make sure your brakes are taken care of properly, even if you don't own a Hyundai! 
Our service department only uses recommended Hyundai approved brake pads and rotors for you Hyundai vehicle. We know there's no fooling around when it comes your brakes. We'll always give you a fair estimate for any brake repair and we'll always get your authorization before we perform any maintenance.
Does your brake pedal need a little extra push toward the floor than it should? Does the front of the of your vehicle shake a lot when you finally roll to a stop? Does the brake pedal have a strange spongy feel to it when you press down on it with your foot? When you apply your brakes, do you hear a loud squealing? If the answer is yes, then it's definitely time to come see a Hyundai certified brake technician at AutoFair Hyundai in Manchester, NH. 
You can do little things to ensure you save yourself money by regularly checking the conditions of your tire treads to avoid braking harder. Worn tires will not get the proper traction they need to help your vehicle stop when you brake. Check your master brake cylinder, is the brake fluid low? Do find yourself topping it off infrequently? This could be a sign of slightly more serious problem with your braking system, possibly a leaky brake caliper. Check for fresh puddles of brake fluid under your vehicle. No matter how small the volume may be, take it seriously. Brake fluid is very corrosive and can lead to more serious repair bills with your suspension or steering linkage and your brake shoes. Let our trained Hyundai certified technicians at AutoFair Hyundai in Manchester, NH worry about the rest when you schedule your brake inspection. You can trust your brakes and the rest of your car care needs with us. It's our job to worry about those things for you. We want to keep you coming back because our service department staff is knowledgeable, thorough, fast and friendly. We'll document all the work we do for your own records so you can get the best resale value possible when it comes time to trad in your car. That's because your service is our service at AutoFair Hyundai in Manchester, NH.
Scheduling Your Service Appointment